Explore The Joys of Erotic Spanking
Many couples are bored, frustrated and ready to give up on their sex life.
Many more are pretty happy but craving something more intense, more thrilling.
If you are ready to shake up your routine and share intense, thrilling erotic spanking adventures, you are only a few clicks away from getting started.
Erotic spanking is the most effective way to create the sexual intensity you crave.
Better Together
This course is available in these bundles for bigger thrills & savings!
Stroke-By-Stroke, Spank-By-Spank Video Guides
Master the skills of erotic spanking, from warm-up to climax
Discover 5 ways to use your hands to create a wide range of sensation and pleasure
Follow simple, easy spanking rhythms to take your lover on an intense erotic journey
Explore 5 positions to find your favorite
Learn where to spank and where to avoid for maximum pleasure and to minimize the risk of injury
See how to use gloves, paddles, vibrators and more to amp up the pleasure of your spanking
In Depth Audio Guides:
Discover why erotic spanking can be so pleasurable, arousing and satisfying
Explore roleplaying, power exchange and the range of erotic energy that can fuel your spanking
Learn how to communicate with your lover before, during and after an erotic spanking
Disaster-proof your erotic spanking explorations
Gain insight on the skills of both giving and receiving an amazing spanking
Comprehensive Handbook:
Understand how spanking creates arousal so you can tap into maximum pleasure
Overcome common concerns about erotic spanking
Gain communication skills so you can experience the ultimate erotic spanking
Personal Support:
Get all your questions answered personally by Chris and Charlotte, The Pleasure Mechanics
Get the support you need for successful explorations at every stage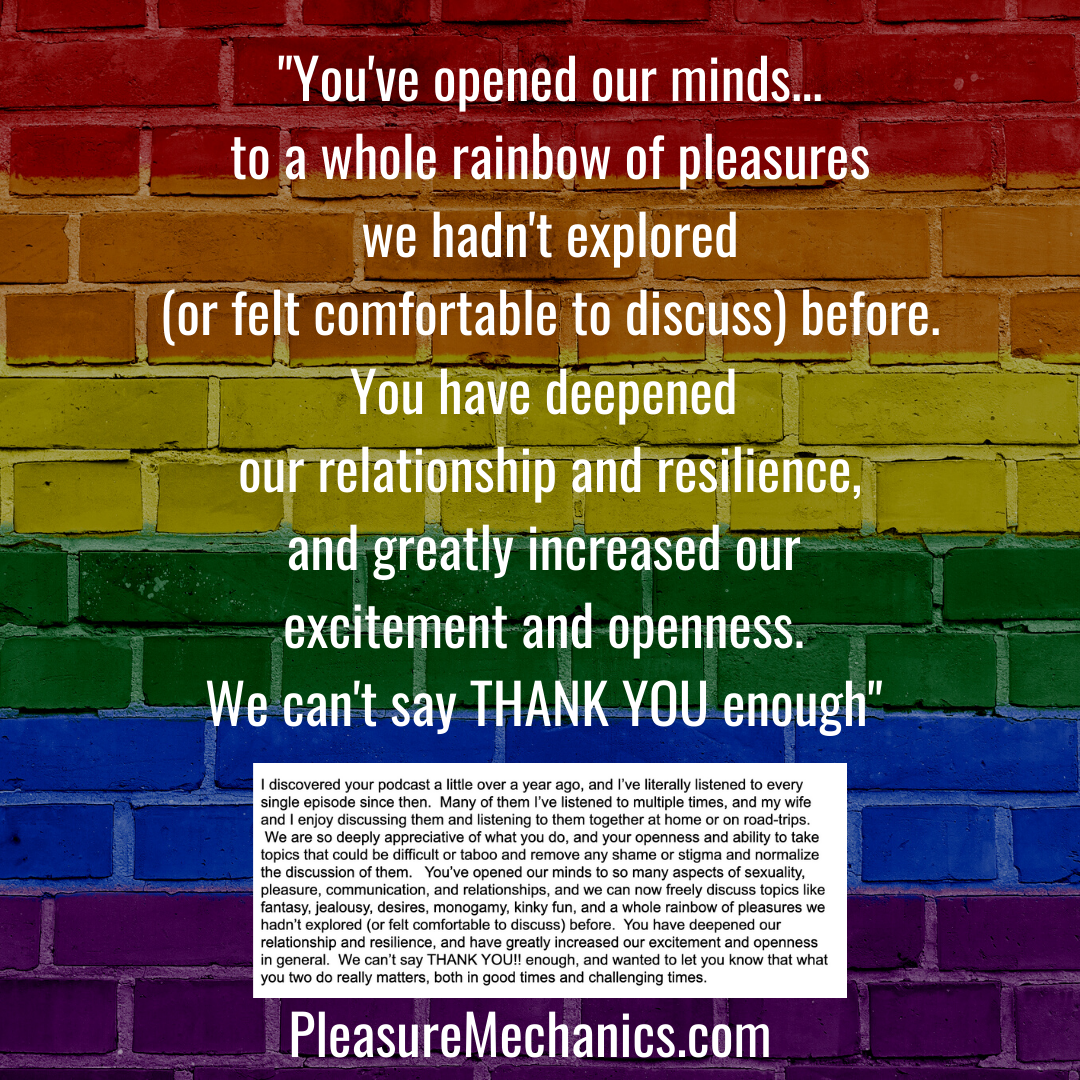 "We can't say THANK YOU enough!"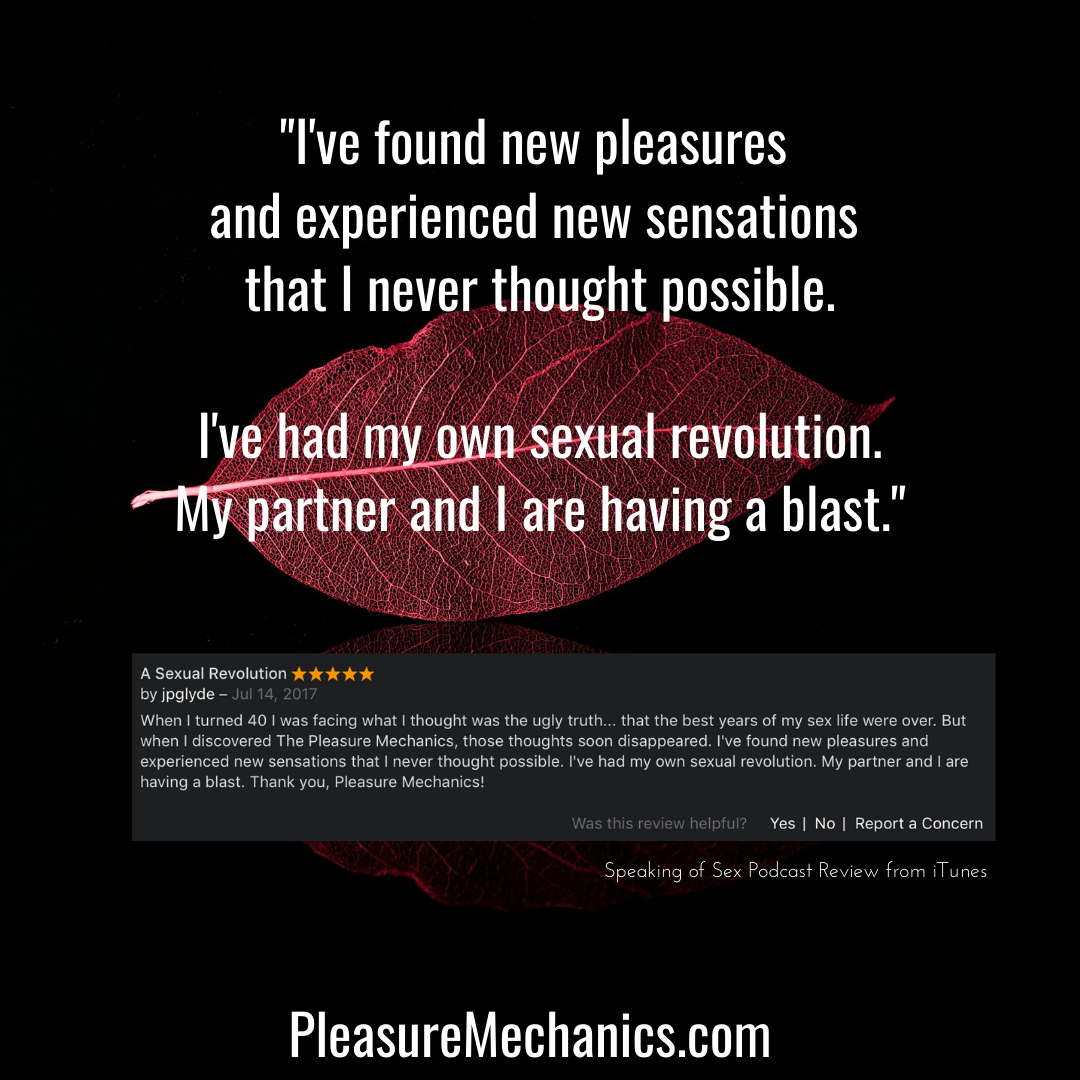 "I've found new pleasures that I never thought possible"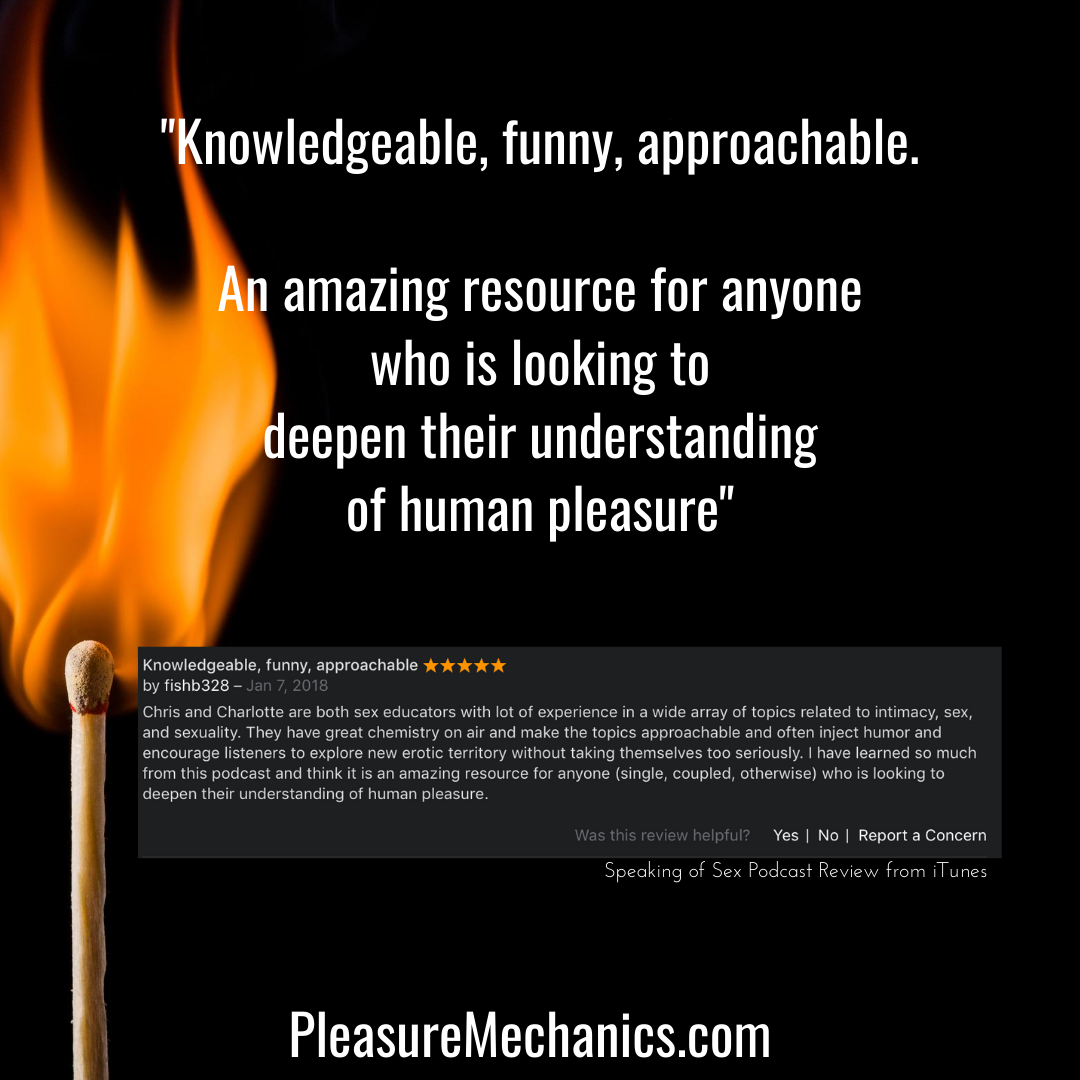 Common Questions Before Enrollment
Why do people like spanking?
Spanking can take you on a journey of sensation, from the slow melt of a gentle warm up to thrilling spikes of pleasure and orgasmic release.
Imagine having your lover across your lap, watching as they respond with gasps of pleasure to every touch.
See their arousal build as you add more intensity, carefully reading their body language so you know just when they are ready for more.
Hear their moans of pleasure as you bring them to a stunning climax, and feel them radiate with erotic euphoria, literally high on pleasure - the pleasure YOU have given them.
Now imagine them begging for more. Sound good? Enroll us and explore with us!
Isn't spanking about pain and punishment?
While the traditional image of spanking is one of punishment, erotic spanking takes a totally different approach. Erotic spanking can be 100% pleasurable and arousing, without a moment of pain. With the techniques you learn in this course, you'll be able to create intense pleasure for your lover - a kind of pleasure you can't create any other way!
We show you how to use erotic spanking as a fun, intense and highly arousing part of sex. We recommend that you NEVER spank your lover out of anger. Spanking can be like a form of intense massage - each spank carefully placed and timed for maximum pleasure.
What if I hurt my partner?
Many people hold back from rough sex out of fear that they will hurt their lover. Meanwhile, so many people crave rougher sex! The solution? Learn how to have rougher sex and create intense sensations through skills like erotic spanking!
The truth is, it is easy to go too far too fast and hurt your partner. This causes breakdown of trust and the build up of resentment - and no one wants that!
With our techniques, you will learn how to build up slowly so your lover's body has time to release endorphins, the body's natural painkillers. The bonus? Endorphins also create erotic euphoria, leaving your partner glowing and literally high on pleasure!
Erotic spanking can be a hot, exciting and fulfilling addition to your sex life. It can also be an erotic disaster if you don't have the right skills.
If you want to explore the thrills of erotic spanking without jeopardizing your relationship, this course is for you!
Isn't spanking a little. . . perverted?
If the kinkiness of spanking turns you on, great. But don't let the idea that spanking is perverted get in your way! The truth is, everyone enjoys a little spanking now and then! It might be a full erotic spanking session or just a well placed slap on the ass during sex.
Spanking feels good because of the way your body is designed. Spanking relaxes tension in the big muscles of the butt (like a really good massage!) and floods your genitals with fresh blood flow, creating lots of arousal. We show you how to maximize the pleasure of spanking so you can give your partner an out-of-this-world erotic experience. Get ready to unleash way more pleasure than you thought possible!
The Normal Bar is a New York Times bestseller based on the most extensive survey of romantic relationships ever conducted to date (over 70,000 people took the survey!) In their research they found that 86% of people are intrigued by the prospect of having some kind of kinky sex - 78% women and 94% men. So although we all may think spanking is a little kinky and out of the ordinary, in fact the vast majority of people are curious about it.
Isn't spanking pretty straightforward? Why would I need to learn anything about it?
Spanking is an advanced sexual skill. Get it right, and you can unleash incredible amounts of pleasure, arousal and euphoria. But if you spank without skill, you'll just piss off your partner and risk hurting the one you love.
This course brings together our thousands of hours of professional training in massage and sex education, along with years of personal experience in the kink and BDSM community. Our techniques are based on the natural design of the human body - every technique takes into account how the body responds to intense stimulation. We show you how to create peak experiences of arousal, rather than painful and unpleasant stimulation. We guide you in mastering erotic spanking so you can be confident and enjoy the experience fully.
This is the most comprehensive course on erotic spanking ever - get ready to earn your master's degree in erotic spanking!
Ready to experience the intensity of erotic spanking? Get started now by clicking the red button below!