Discover A Whole New Approach To Anal Play
This course is the key to expanding your sexual pleasure and overcoming the barriers that are holding you back.
Our revolutionary approach to anal pleasure will transform your relationship to your sexuality, and permanently improve your sex life.
We demonstrate explicit techniques on lifelike replicas, so you can focus on mastering our proven techniques for pleasure.
Hit "play" below to get a sneak peek inside the course, which features stroke-by-stroke video guides to anal play & painless penetration.
Want to expand your sexual experience and try something new in bed?
Ready to unlock new levels of orgasmic pleasure?
Are you and your lover curious about backdoor play, but afraid it will hurt?
Want all the fun without any risk of embarrassing, messy mistakes?
The truth is, exploring backdoor play can add huge amounts of pleasure and orgasmic joy to your sex life. Every woman can enjoy it as part of her sex life, without any pain or discomfort.
We want every woman to have the opportunity to enjoy the incredible pleasures of anal stimulation, without any of the pain or mess. That's why we created this online, multimedia course that reveals everything you need to know to master the skills of anal pleasure.
This course is the key to expanding your sexual pleasure and overcoming the barriers that are holding you back. Our revolutionary approach to anal pleasure will transform your relationship to your sexuality, and permanently improve your sex life.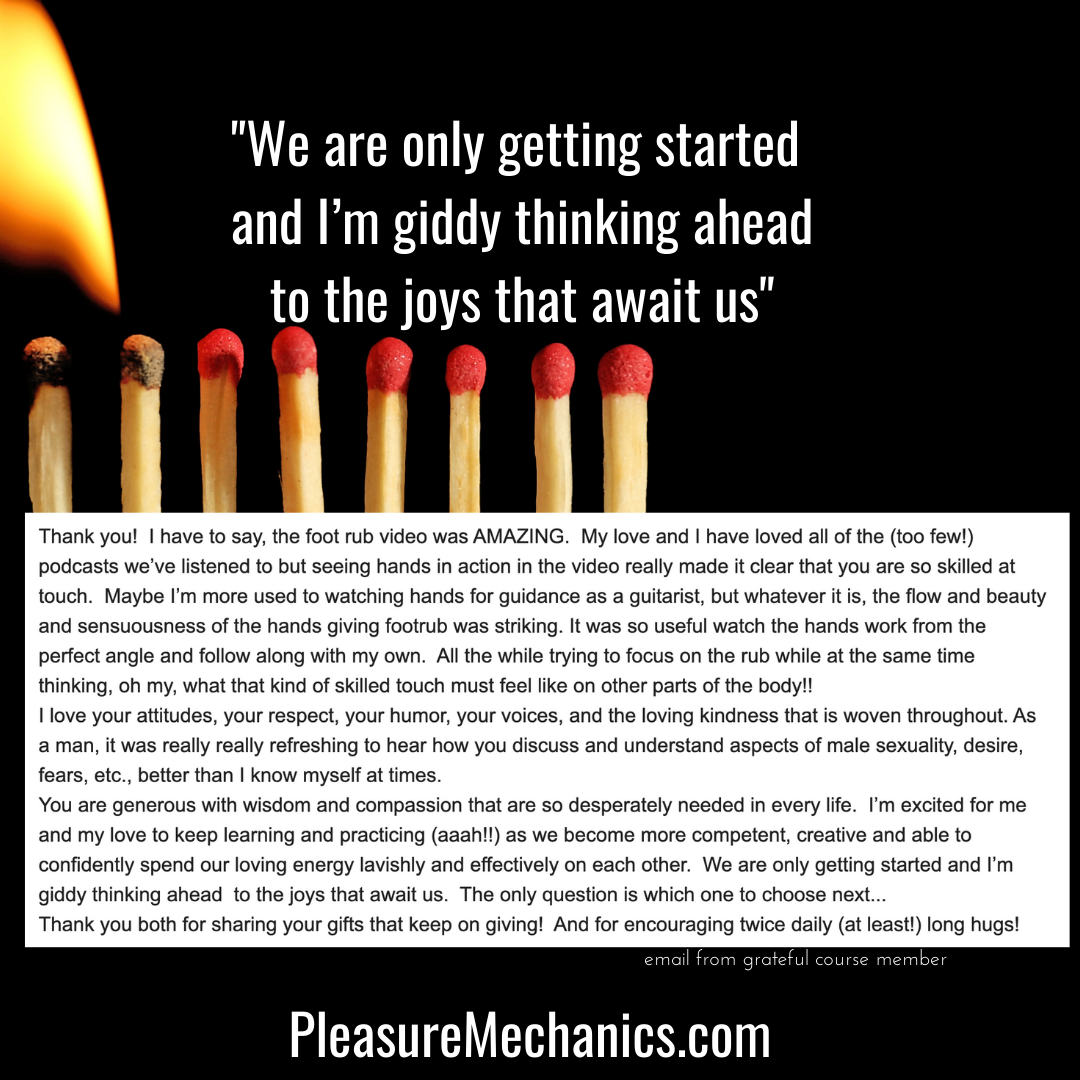 "I'm giddy thinking ahead to the joys that await us"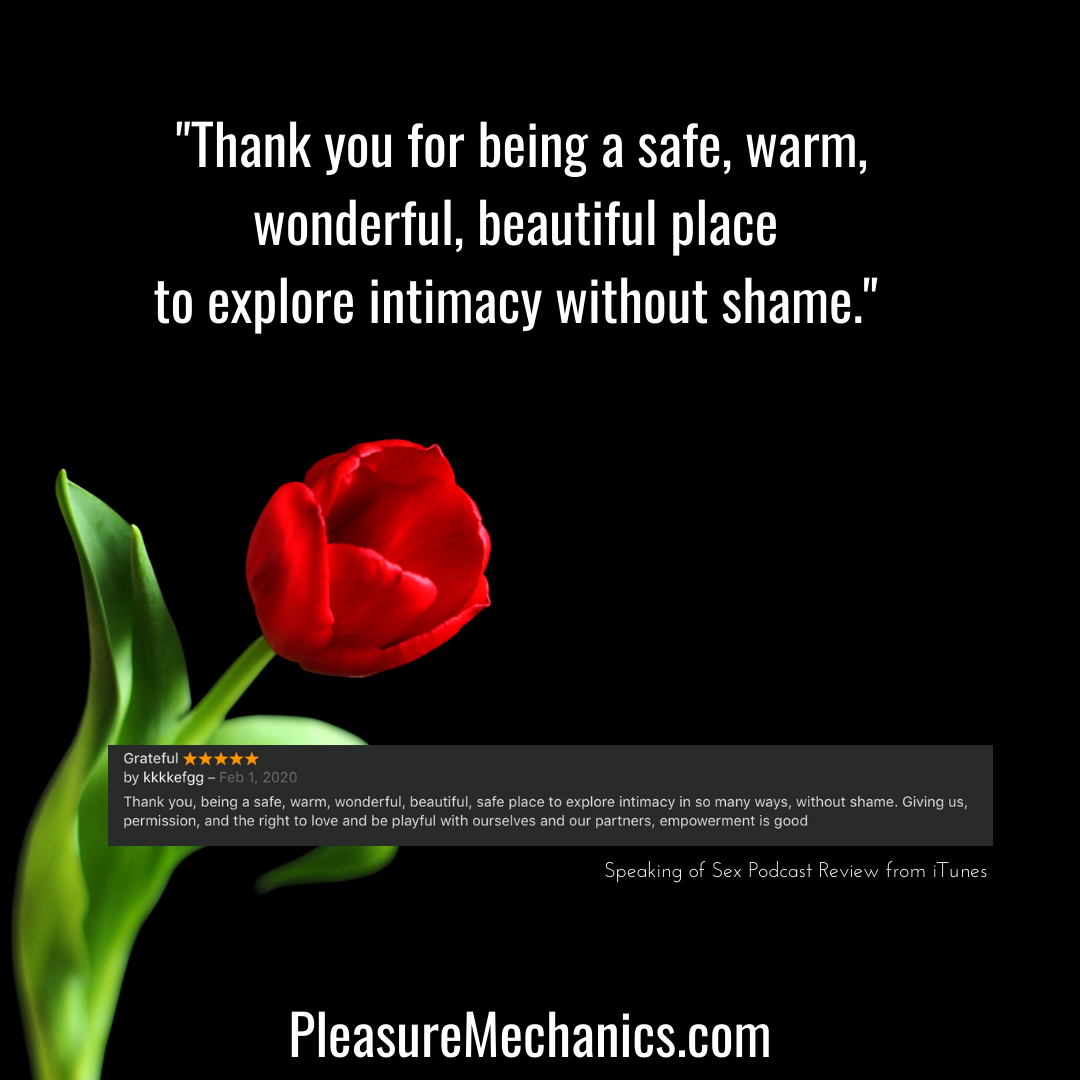 "Thank you for being a warm place to explore intimacy without shame"
"Great common sense solutions to tough problems
Bundle Up & Save
Bundle with other online courses for more thrills & savings!
100% Pleasurable, 100% Pain Free
Here's the truth: Your body is designed to enjoy anal pleasure - the anus is part of your sexual system, with tons of nerve endings just waiting to give you highly orgasmic thrills. Anal sex can be 100% pleasurable, 100% pain free. Anal stimulation can add new heights of pleasure to the sex you already enjoy.
But most people don't have great experiences with backdoor play.
That's because most people are doing it wrong! It just ends up hurting and feeling less than pleasurable, right?
We offer a new and powerful approach to anal sex. If you listen to your body and what it is designed to enjoy, you can safely explore all the thrills of anal eroticism - from gentle external touch to deep full penetration.
Anal stimulation can be a highly orgasmic part of your sex life. Or, it can be an erotic disaster. The difference is all about technique. In this course, we reveal all of the secrets of 100% painless, 100% pleasurable anal sex. From gentle warm up to full penetration, we show you how to activate this erogenous zone without a moment of discomfort - guaranteed.
Our comprehensive online course gives you everything you need to explore this taboo thrill in the privacy of your own home, at your own pace.
Join Our Many Grateful Course Members
We know these techniques work because we have seen them work with our thousands of students around the world.
We surveyed the women in our community about what they liked about anal play, and here were some of the responses:
"It is intimate, intense, deep"
"Unbelievable, challenging wildfire of vulnerability!"
"It widens the range of pleasurable sensations."
"For me it's actually easier to reach an orgasm when I get clitoral and anal stimulation at the same time than vaginal and clitoral!"
"Once I had an orgasm just from internal anal stimulation…I will never forget it!"
"More explosive orgasms when he gently stimulates all regions at once!!!"
With the right partner, I can relax enough to be comfortable with that part of my body being exposed and explored. That alone makes me more vulnerable to higher levels of stimulation and orgasm."
"There is an additional level of trust involved with anal sex with my man. It seems to help the buzzing, building feeling before orgasm. My orgasms come sooner and last longer."
"It helps things never get boring!"
"My orgasms are intensified tremendously with anal stimulation"
"Orgasms are more powerful and complete. All my body is involved. Wow!"


Common Questions Before Enrolling:
My guy is willing to take it nice and slow, but I still can't seem to enjoy it.
Whether or not you have had negative experiences in the past, anal pleasure is often something you need to warm up to over time.
We share the specific skills you can develop as the receiver of anal pleasure - you don't need to just be still and take what your lover is doing to you! You can discover how to be a more active receiver, communicating about what you enjoy and guiding your lover in giving you maximum pleasure.
As the saying goes, it takes two to tango, and in this course you will BOTH learn how to maximize pleasure and enjoy exploring the pleasures at hand.
Last time I tried this it really hurt. Why would it be any different this time?
You are not alone! We made this course just for women like you. We have talked with thousands of women who have had painful, negative experiences. That is because the way most people try to have anal sex is all wrong. We are so sorry this happened to you, but please know another way is possible!
We teach 100% pleasurable, 100% pain free anal sex. We guide you step-by-step in how to make this happen, every time you explore anal stimulation. We know it works because we have helped thousands of women discover this new approach to anal sex. Even women who never thought they'd be able to enjoy it have discovered how much pleasure is possible with our techniques.
This course offers you powerful strategies for taking control of your sexual experience so it can be completely pleasurable every time.
If I enjoy it, will he expect it every time?
Think about a sexual activity you already both love. Do you include it every time, or just when you are both in the mood? Great sex involves variety and learning to love anal pleasure will simply expand your options. You can include it as much or as little as you want! You can add just a little bit of external stimulation or go all the way with penetration, depending on what your body is craving! In addition to the physical skills of anal pleasure, this course will show you how to communicate and negotiate so you both enjoy your sexual encounters more, every time.
Isn't it kind of … dirty?
We arm you with vital insights that will help you relax enough to enjoy the pleasures at hand, while taking care of all your hygiene concerns! We understand your desire to "keep it clean" and show you how with no dramatic procedures!
Is this what some people call "anal training?"
With this course, you'll find out how to add backdoor play to the sex life you already enjoy. How much, how often and how deep is totally up to you. Many "anal training" systems have one goal: bigger and deeper at all costs. These systems focus on the giver's pleasure. We focus on the receiver's pleasure as a guide to what happens in any given moment. We believe if the person being touched enjoys the sex, the giver can enjoy it as well. But if the receiver is not having fun, neither one of you really can fully enjoy it. Our receiver focused system of anal stimulation ultimately leads to more fun for everyone without any pain or regret. Sound good? Enroll now and join us to learn how!
What about gaping? My friends told me it will ruin my body.
If you rush into anal penetration and override your body's warning signals, you can do damage to the sensitive tissues involved. This can lead to days, weeks or even months of pain and discomfort. Not good. The methods in this course keep you 100% in the pleasure zone, and only go as far as your body wants. This means you'll never damage your body. You'll actually end up healthier than you started, thanks to our unique techniques.