The Handy : The Ultimate Handjob Machine
Does The Handy live up to it's claims of being The Worlds Ultimate Handjob Machine? Here is our review and an exclusive discount on The Handy stroker - trust us, we went in skeptical too, and were blown away by what this pleasure machine is capable of!
Listen to our interview about how The Handy was Designed For Pleasure!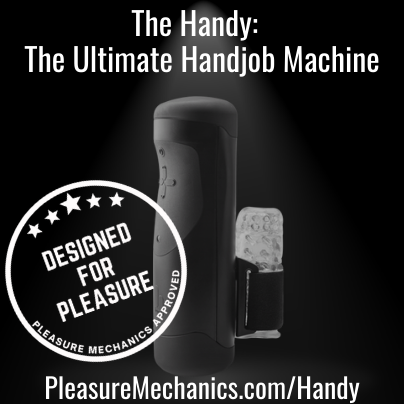 What we love about The Handy:
Thoughtful design allows adaptive play on all bodies makes this toy TRULY "one size fits all"
Ability to use own strokers and toys with The Handy's powerful motor and stroke function
Smooth strokes, powerful motor and very versatile stroke length and speed
Manual mode is excellent experience, right out of the box
Online interactive mode allows immersive media experiences, long distance "remote control" function and so much more
We loved the Handy so much we awarded it our first ever "Designed For Pleasure" Pleasure Mechanics stamp of approval!
Have we stroked your interest in The Handy? Visit www.TheHandy.com and use code PLEASURE for $10 off your pleasure machine, fully backed by a guarantee so you can explore risk free.
Chris take The Handy into Interactive mode, controlling J.P.'s toy from around the world!
---
Stroke Scaling is a feature that allows you to focus The Handy's stroke right where you want it!
Complete and Continue